Dott – a new type of art guide
Applying Augmented Reality in a museum setting is really a textbook example and illustrates in a playful manner many of the capabilities of AR. Building a museum guide fits well with the trend of Bring Your Own Device (BYOD). We also wanted to deploy something for the smartphone platform since we think that phones are an intermediary to wearable devices, mainly in terms of social acceptance and teaching the public how to use new invisible technology. This project has also brought our attention to interesting non-technical questions relating to ways in which we create and manage AR content.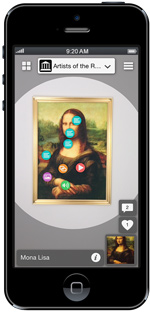 Dott uses our image recognition algorithm to identify which picture the museum visitor is currently interested in. In contrast to active infrared beacons, image recognition offers a passive way of identifying a picture. We have also equipped Dott with our tracking algorithm such that when a picture is identified, the camera view can lock on and allow Dott to draw small dots on the surface of the real world painting. By augmenting the picture we can tell a contextualized story about various parts of the picture.
In addition to applying the algorithms we also equipped Dott with a Content Management System which can be accessed both via the smartphone and  through a web interface. We have also a method for classifying each picture which allows Dott to compile statistics on user preference which then can be used to invite the museum visitors again to exhibitions which suits their taste.
Dott is now ready for use. It is free to museum visitors and small museums. Bigger museums get to pay a small monthly fee. While Dott is one of the most technically advanced museum guide on the market, it's cloud-based implementation also makes it among the most affordable ones. Read more about Dott on www.do.tt. Why not try it yourself. Download it from App Store or Google Play. The sample location "Art Museum" works on any instance of Da Vinci's Mona Lisa.
Art Now
What is the most interesting place to discover art at the moment? Art Now knows! Art Now is constantly taking the pulse on Instagram art buffs and museum goers and gathers museum, artworks, trends and events in one easy app for you to search and browse. Art Now is a true reflection of what people really like. The content has not been edited but comes straight from users like you. The world's first truly democratic art guide is here!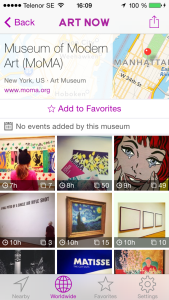 We used the image recognition algorithm developed for Dott and repurposed it from being executed on a smartphone to run on a server. Then we started feeding it photos from Instagram and after a little while the algorithm had neatly binned all photos into artwork and museums. Of course we had to think for a while about the best strategy to collect photos.
Art Now can get users inspired about art and help them find museums they'd like to visit. The idea is to use Art Now to plan the next weekend trip, or – if you've already landed in a new city – use Art Now to check out which cultural institutions nearby that are popular with its visitors. It seems like Microsoft also thought this service could be useful.
We take a little different approach compared to Artsy and Artstack in that all our information is found via Instagram users and not manually submitted. While we are not building an art genome like Artsy, we achieved a pretty interesting service by analyzing and organizing the image tags. Now we have a pretty powerful image search. In addition to searching to artist names you can also search for genres, or even colors and materials. For example, you can search for all artwork in Paris made of neon.
More information is available on www.artnowapp.com.
Video 1: Does your Instagram feed look like this?
Video 2: Instagram photo morph slide show mode
Video 3: New Art Now Slideshow feature morphs between user perspectives